No Christmas celebration is complete without beautiful, extravagant lights throughout the house. While putting up lights indoors is an easy task, outdoor Christmas lights on your house roof is a risky task because of snow and improper tools. The Consumer Product Safety Commission reported an average of 230 accidents daily and 14,000 in total throughout the festive season, most of which are Christmas light-related falls. (2016)
To avoid these accidents happening to you, find a permanent outdoor LED light solution that can be controlled with your smarthome. These are installed professionally and come with product and workmanship warranty. Take away the stress of hanging and removing lights every Christmas and also add to your property's value, if you may choose to sell.
Understanding LED Smart Lights
LED smart lights have revolutionized holiday lighting. They are energy-efficient, durable, and backed by warranty. With these lights, you're not stuck with just red and green. You can jazz up your home with a whole rainbow of colours. You can control them all with your smartphone or even shout out commands to your smart home assistant.
Unlike traditional incandescent bulbs, LEDs consume less electricity, reducing your energy bills. Also, they generate less heat, minimizing fire hazards.
Choose the Right Type of Christmas LED lights
Strand Type: Look for strand or line lights if you're decorating trees, railings, or eaves. These come in various lengths and bulb sizes.
Net Lights: Ideal for bushes and garden areas, net lights provide even coverage and easy installation.
Icicle Lights: Perfect for creating a winter wonderland effect along the edges of roofs or windows.
Projector Lights: A hassle-free option to light up a large area, such as the side of your house.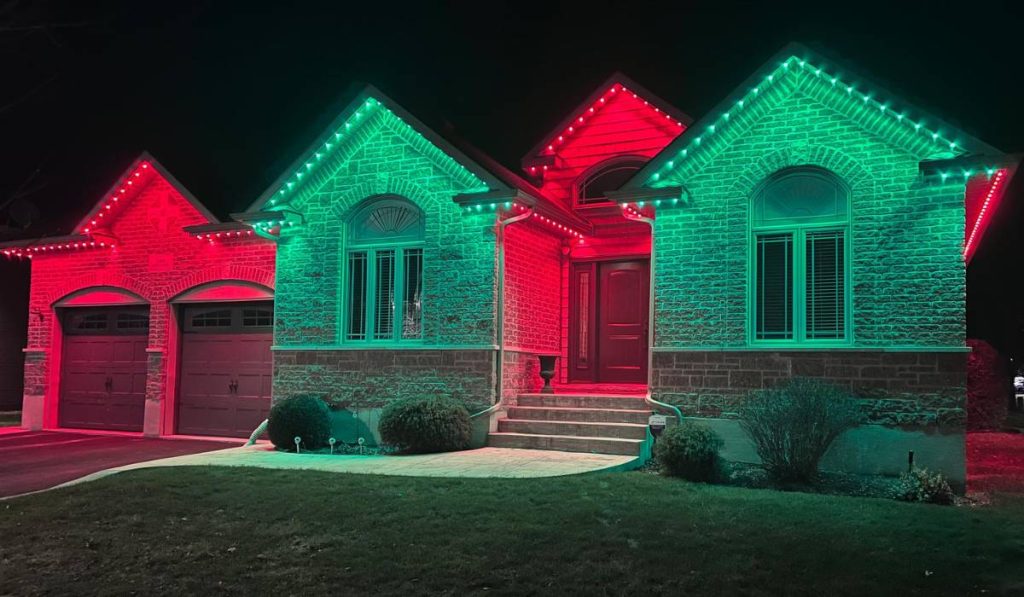 7 Features to Consider While Choosing Christmas LED lights
1. Colour and Brightness
While traditional white and warm tones remain popular, vibrant colours like blue, red, and green can add a unique touch. You can also adjust brightness, which is a great feature during main nights of the festival, so you can keep the Christmas LED lights on throughout the night.
2. Smart Features and Connectivity
Look for lights that can connect to your home Wi-Fi network or via Bluetooth. Sharp Home Technologies is an authorised seller of Gemstone Lights in Kingston and we can help you professionally install them as well. You can control the lights with its cloud-enabled Gemstone Lights HUB app. Beyond that, you can create patterns and animations using more than 150 soffit and fascia colours.
3. Energy Efficiency and Cost
While LED lights are more expensive upfront, they are more energy-efficient and have a longer lifespan than traditional bulbs. This means cost savings in the long run. Check for energy ratings and certifications like ENERGY STAR for quality assurance.
4. Weather Resistance and Safety
Canadian winters are always harsh. Ensure the lights you choose are weather-resistant and rated for outdoor use. Also, check for safety certifications like UL or CSA to ensure they meet Canadian safety standards. Gemstone Lights are also IP67 rated, which makes them 100% waterproof.
5. Sustainability and Environmental Impact
As an environmentally conscious company, we always consider the sustainability of the products and services we offer. LED lights are more environmentally friendly than traditional bulbs due to their longer lifespan and lower energy consumption. They can save you 50 to 70% of electricity bills. Look for lights made from recyclable materials and those that have a low environmental impact during production.
6. Customization and Personalization
Some lights come with pre-set themes and animations for Christmas, New Year's, and other occasions. Personalization features like timing schedules, colour-changing sequences, and dimming capabilities, so you can set them according to your preferences.
7. Technical Support and Warranty
You need a LED light solution with an efficient warranty for technical support, especially for smart lights, so you can troubleshoot any connectivity or operational issues. Gemstone Lights are backed by a 5-year warranty, which is the longest compared to similar solutions.
Safety Tips for Christmas LED Lights
We've talked in detail about safety precautions to take while choosing Christmas LED lights, now let's talk about safety precautions when they are in use.
1. Power Check: Avoid overloading your electrical outlets. Too many lights on one circuit can trip breakers or, worse, cause a fire. If you're unsure, consult an electrician.
2. Use a Timer: A timer not only saves energy but also prevents lights from overheating by ensuring they're not on 24/7.
3. Check for Damage: Before you put them up, inspect your lights. Frayed wires, broken bulbs, and loose connections are hazards. Replace damaged lights or fix them before use.
4. Turn Off When Unattended: Always turn off your lights when you're not home or when going to bed.
5. Child and Pet Safety: Keep wires and lights out of reach of children and pets. Chewing on wires or pulling on lights can lead to accidents.
Choosing the lights involves considering factors like type, colour, energy efficiency, connectivity, and safety.
Get in touch with Sharp Home Technologies for an upfront quote on our Christmas LED lights product and installation. We also help our clients with financing through FinanceIT.